In other words, transformational leadership, by necessity, focuses on nurturing a culture that is resilient to instability and uncertainty and that promotes divergent and parallel thinking in order to adapt successfully to dynamic conditions.
Over the last decade, the Triple E Total Enterprise Performance System™ has emerged, from research and work with clients, as a blueprint for what Gary Hamel refers to as a "real-time, socially constructed approach to change"; in other words a transformation platform.
This transformation platform is constructed from a comparable depth and breadth of "technical expertise", about supporting the performance of human beings, that has historically been demonstrated in the fields of engineering, science and technology; key drivers of value creation during the Industrial and Information Ages, in order to support value creation in what we term the High Performance Age.
Are you ready for the Performance Revolution?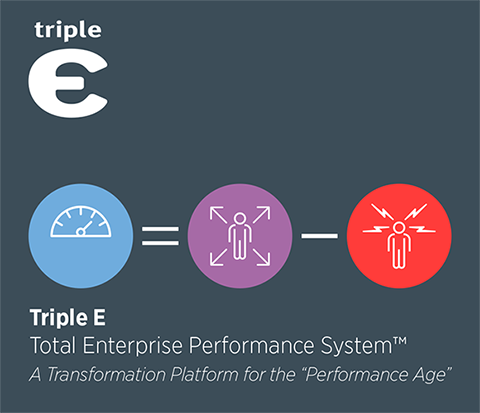 You, your customers and your shareholders, need people to be able to perform at the highest level possible for more of the time, and to be as psychologically happy as possible, in order to create value.
This will be the signature characteristic of the High Performance Age.
The Triple E Total Enterprise Performance System™:
Offers you an effective alternative to the episodic (and generally futile) interruptions of the status quo that are initiated and managed from the top in most organisations.

Is built on a robust understanding of the nature of learning and building expertise, and the pivotal role of mindset and mental toughness in applying cognitive quality and productivity to achieving High Performance.
If you are curious to know more, please do get in touch!