When it comes to improving performance, what sets apart virtuoso performing artists, master craftsmen, dedicated athletes and the military from your sales and business development people? In a nutshell, the former wouldn't attend a training session for a couple of days to be made aware of some new techniques and expect, straight away, to achieve long-term mastery, discipline and application of their new skills.
That however is exactly what most sales "training" programmes, even the most respected and widely-known ones, offer. In fact they have a fundamental limitation; that leaves Senior Executives and those charged with Sales Force Effectiveness frustrated in terms of sustainable performance improvement and a tangible ROI. The shortcoming is that they take little or no account of performance psychology and the way in which performers most effectively improve their skills and, transform behaviour. True performance improvement requires the performer to explicitly practice their skills, day-in, day-out. It requires coaching and positive reinforcement to keep skills fresh, focussed and improving.
The Triple E Difference
That's where the Triple E High Performance Value Selling® discipline is different. Our powerful blend of performance psychology, fundamental sales skills (focused on uncovering, creating, articulating and trading value) and high performance tools represent a unique combination. As such, the Triple E High Performance Value Selling® discipline represents a "game-changing" approach for achieving permanent improvement in sales performance, commercial robustness and value delivery.
High Performance Value Selling® underpins every programme that we offer to our clients. Whilst every principle, tool and technique within our programmes is constantly being reviewed and refined to ensure simplicity, quality and productivity, this programme is not for everyone. Those looking for a "silver bullet" or "magic wand" solution will find little comfort. Our programmes come with a serious message of working both harder and smarter. Perfect for the ambitious in pursuit of world-class performance, but a "health warning" for the faint of heart.
Triple E High Performance Value Selling®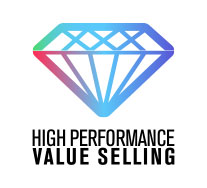 Over the years, we have developed a suite of modular programmes that respond to challenges faced by many businesses. These signature Triple E programmes - based on High Performance Value Selling® - have an immutable architecture of their own including a core set of tools, but which are customisable to reflect the use of your organisational language, existing tools and processes and shades of emphasis dictated by your context. Our programmes are characterised by the use of self-assessment tools to allow participants to evaluate their performance improvement as they move through the modules. They also feature extensive opportunities for practicing tools and techniques. These "Practice Sessions" are a serious and intense aspect of the group coaching experience and fundamental to faster learning.
You can access additional group coaching support provided in the form of our 1-hour Workout Sessions or 2-hour Accelerator Sessions that take a single focus from a programme and work that aspect intensively.